Sawing. Separating. Dicing.
Separation to perfection
---
When it comes to separating wafers into microchips at high precision, cutting optical lenses and filters out of glass substrates, or separating technical ceramics into small or very small units, then WGDicing GmbH is the company of choice: We have conducted the sawing of a wide variety of materials with the highest precision for over 18 years. Depending on the material and its thickness, we achieve sawing tolerances of just a few micrometres.

If you attach great importance to high precision and careful handling during sawing and separating procedures, you should not take any risks! The great strength of WGDicing GmbH is its many years of experience: We know which material and which saw blade delivers the best results. We know which feed rate and speed can be employed to conduct the separation as quickly as possible while still being gentle on the material. We select the optimally suitable film for mounting, choose the right cooling medium depending on the material and process and supply it in technically and economically optimised quantities during sawing. There are many factors that have a great influence on the quality of sawing. Therefore, you should not take any risks in view of the sawing your wafers and substrates. This is a matter for experienced experts.
Materials
Separation according to dimensional or structural specifications
---
Semiconductor materials: Si, Ge, SiC, LiNb
Glass substrates: Sapphire, borofloat, quartz glass, coloured glass
Technical ceramics: Al2O3, LTCC ceramics
Plastic: FR4 circuit boards

Mounting
Process sequence in three steps
---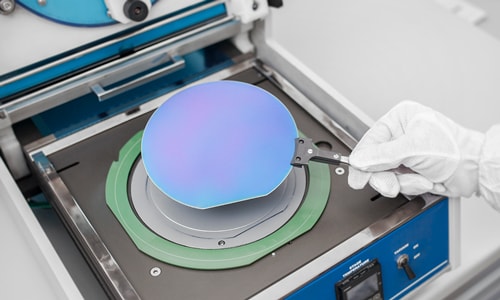 Step 1
Step 2
Step 3